Mark C. Glassy, PhD
Founder, Nascent Biotech
Chairman, Science Advisory Board
Dr. Glassy is the Science Advisory Board Chair of Nascent Biotech, Inc. and the Director and Professor at the Integrated Medical Science Association Foundation.
Glassy has held several upper-management positions in commercial biotechnology. He was co-founder and CEO of Shantha West, Inc, a subsidiary of India-based Shantha Biotechnics of Hyderabad, India. Shantha West resulted from a joint venture between East/West Laboratories Inc. (predecessor company to Shantha West, Inc.) and Shantha Biotechnics. Shantha was subsequently sold to Merieux Alliance in 2007.
Prior to that Glassy served as Vice President of Research and Development for Novopharm Biotech Inc. He has prepared and directed several FDA-approved clinical trials involving human monoclonal antibodies to cancer. Prior to Novopharm, Glassy was Director of Immunology at Brunswick Biotechnetics and Chief of the Human Antibody Program at Biotherapeutics, Inc.
In 1980 Glassy joined the Department of Medicine and Cancer Center of the University of California, San Diego faculty and is currently a Visiting Scholar in the Mechanical and Aerospace Engineering Department at UCSD. He did his post-doctoral studies in molecular immunology as a Research Fellow at Scripps Clinic & Research Foundation in La Jolla, CA.
Glassy, who received his Ph.D (summa cum laude) in biochemistry from the University of California, Riverside in 1978, has 160 publications in the scientific and medical literature, is the Editor-In-Chief of the journal, Human Antibodies, serves as the chairman of the international conference series on human antibodies, and has been awarded several patents in the field of human monoclonal antibodies.
Glassy was the recipient of the 2003 Arthur Furst Award (citation, "Outstanding research advancing science for the betterment of humanity") and the inventor of pritumumab, the first human antibody used to treat a cancer patient.
Dr. Santosh Kesari, MD PhD
Principal Investigator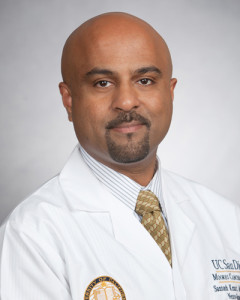 Dr. Santosh Kesari is currently the Director of the Neuro-Oncology Program, Director of the Neurotoxicity Treatment Center, and Director of the Translational Neuro-Oncology Laboratories at Moores Cancer Center and a Professor of Neurosciences at the UC San Diego School of Medicine. Prior to coming to UC San Diego in 2009, he was an Assistant Professor of Neurology at the Dana-Farber Cancer Institute and Brigham and Women's Hospital in Boston from 2003 to 2009.
Dr. Kesari was determined to be among the top 1% neuro-oncologists and neurologists in the nation, according to Castle Connolly Medical Ltd., which reports its findings as the U.S. News & World Report Top Doctor list.  He is a winner of an Innovation Award by the San Diego Business Journal. He is on the advisory board of American Brain Tumor Association, San Diego Brain Tumor Foundation, Chris Elliott Fund, Nicolas Conor Institute, Voices Against Brain Cancer, and Philippine Brain Tumor Alliance. He has been the author of over 200 scientific publications and is the inventor on several patents and patent applications.
Dr. Kesari is board certified in Medical Oncology and Neurology. He completed his residency at Massachusetts General Hospital/Brigham and Women's Hospital in Boston and his fellowship at the Dana-Farber Cancer Institute in Boston. He earned a Ph.D. degree in molecular biology and a medical degree from the University of Pennsylvania School of Medicine. He is a member of the Society of Neuro-Oncology, American Society of Clinical Oncology, Indian Society of Neuro-Oncology, and American Academy of Neurology.
Dr. Eric F. Glassy, MD
Anatomic and Clinical Pathology
Hematopathology, Information Technology and Digital Pathology
Eric F. Glassy, M.D. is Board certified in Anatomic and Clinical Pathology with a specific interest in Hematopathology, Information Technology and Digital Pathology.
He has served as Laboratory Director for several Southern California hospitals and was involved in key leadership roles for hospital staff and foundation committees. Dr. Glassy is active in national pathology societies including the College of American Pathologists where he has served or serves in leadership or member positions on the Hematology Resource Committee, Publications Committee, Council on Education, Council on Scientific Affairs, Committee on Member and Community Engagement, and the Council on Membership and Professional Development. He is a past board member of the CAP Foundation. He was honored by the CAP with the Pathologists' Distinguished Service Award, the President's Honor Award and Excellence in Education Award.
He is a well-known lecturer and has authored several publications in his fields of interest. He has also edited and illustrated the CAP Color Atlas of Hematology, Color Atlas of Body Fluids and the Color Atlas of Urinary Sediment. He is the developer of a variety of software programs for pathology. He holds a green belt in Six-Sigma. He was recently appointed to the board of the Digital Pathology Association and the CAP Digital Pathology Committee, which he chairs. Dr. Glassy received his medical degree from the University of California, San Francisco, California. He did his pathology residency and hematopathology fellowship at Harbor-UCLA Medical Center.
Andrew Serafini, JD, PhD
Patent Counsel
University of California, Hastings College of Law. He holds a PhD. in Immunology from the Stanford University, School of Medicine in Stanford, CA. Partner in Fenwick's Intellectual Property Group and special council for life sciences companies.
Delivering human antibodies for the treatment of cancer